IRP… Challenger's most important manufacturing secret lies behind these initials.
Whether the version is VIP or Premium, our unit structures are all made following the same high standard of quality. IRP guarantees excellence in manufacturing for optimal isolation, even greater resistance and reinforced protection.
We offer the best possible insulation for your peace of mind and a long life for your vehicle

an extra-firm foam with high sound and thermal insulating power.
Specially designed floor and roof thickness,
for insulation that exceeds the usual norms.
We are convinced of the effectiveness of this manufacturing process that aims to ensure even greater comfort and an exemplary lifecycle for your motorhome.
For better resistance, a reinforced structure
Protective polyester skin
Provides greater resistance to scratches, minor impacts, gravel, hydrocarbons, ultraviolet radiation and bad weather in general.
Extra-thick floor and roof,
among the best on the market, offering greater resistance to loads and limiting deformation over time.
Sturdy wood/composite combination,
reinforces the structure of our walls and floors by combining composite longevity with the exceptional sturdiness of solid wood.
all materials in contact with the exterior are rot-resistant and insensitive to humidity. On the inside, we prefer high-quality wood.
N.B.: Because of its particular shape, the roof of our overcabs uses a specific technology.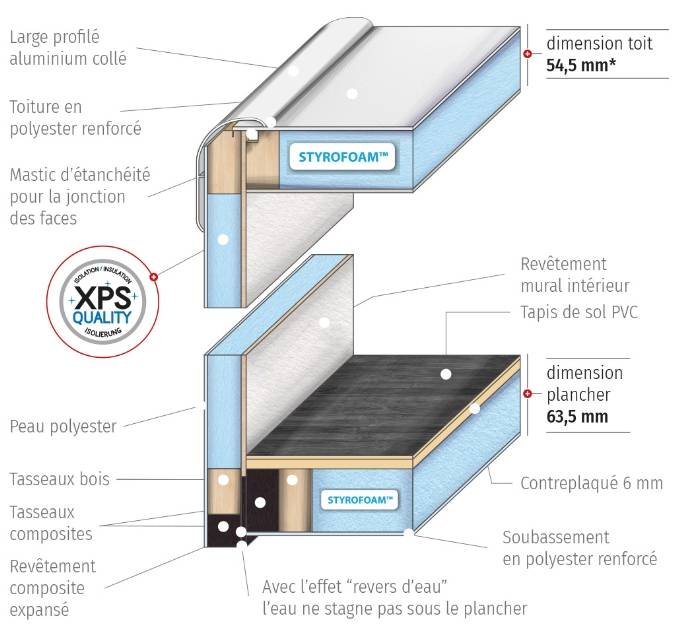 35 years of experience in protecting your motorhome
because of our rot-resistant materials and broad aluminum profiles that are glued and not drilled.
because of the polyester covering that limits, for example, damage from hail (on the roof and walls) or salt (under the floor).
Against heat, cold and noise
thanks to polyester and a rarely equaled isolation thickness.